Products
Optional parts

Is the protection cover necessary?
It is an iron cover that can firmly protect resinous the level gauge.
The level gauge can be checked from anywhere because a protection cover opens widely.
We size the parts from 170mm to 650mm by 20mm.
"Detection length" + 110mm is a standard.
* We can offer the best cover if you add "with the cover" when you order the level gauge.
Optional parts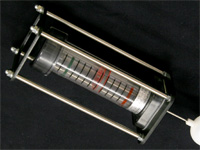 Protection cover

ALG-KG-*
*Please specify "Detection length"+110mm of the level gauge being used.
*The main body is not attached.